If you're like most homeowners in Austin, your garage door is one of your home's most frequently used entrances. It's easy to take your garage door for granted, but you quickly realize how important it is when it stops working. A broken bracket is one of the most common problems with your garage door. Fortunately, replacing garage door brackets is a relatively simple process that a professional garage door repair company in Austin can complete quickly and efficiently.
There are a few things you need to know. Here are some essential tips to keep in mind:
Safety first: Before you start any work on your garage door, make sure to disconnect the power to the door opener. This will prevent the door from accidentally opening or closing while you are working on it.
Identify the type of bracket: Different types of brackets are used for garage doors, such as horizontal, vertical, or angle brackets. Make sure you identify the bracket you need to replace before shopping for a replacement.
Choose the right replacement bracket: Once you have identified the type of bracket you need, choose a replacement bracket that is the right size and shape. The new bracket should fit securely and align with the other brackets on your garage door.
Use the right tools: You will need a few tools to replace your garage door brackets, such as a socket wrench, pliers, and a ladder. Make sure you have all the necessary tools before you start.
Follow the manufacturer's instructions: When you are ready to install the new bracket, follow the manufacturer's instructions carefully. Improper installation could result in damage to your garage door or even injury.
Check the alignment: After installing the new bracket, check the door's alignment to ensure it opens and closes smoothly. Adjust the bracket until the door operates correctly if there are any issues.
Cost of Replacing Garage Door Brackets in the US
The cost of replacing garage door brackets in the US can vary depending on several factors, such as the location, the type of garage door, and the extent of the damage.
On average, homeowners can expect to pay between $150 and $400 for garage door bracket replacement. This includes the cost of materials and labor.
To ensure the safety and security of your home, it's crucial to address a broken garage door bracket promptly. Ignoring the issue can lead to more severe damage, injuries, or property damage. While the cost of replacing brackets can increase significantly if the damage is severe, it's important to remember that it's an investment in your home's safety.
To determine the exact cost of replacing your garage door brackets, getting an estimate from a reputable garage door repair company is essential. They can provide you with a detailed breakdown of the cost and services included. If you're comfortable working with garage doors and want to attempt the repair yourself, it's relatively simple if you follow basic guidelines. However, if you're unsure or uncomfortable, it's best to call a professional garage door repair company for assistance.
Belerick Garage Doors LLC is a leading garage door repair company in Austin, Texas. We specialize in all aspects of garage door repair, including residential garage door repair, commercial garage door repair, garage door installation, and emergency garage door repair. Our team of experienced technicians is trained to handle any garage door repair or installation project, no matter how big or small. We pride ourselves on providing our clients with high-quality service and exceptional customer care.
Why Choose Belerick Garage Doors LLC for Garage Door Repair Austin?
At Belerick Garage Doors LLC, we understand that garage door problems can be stressful and inconvenient. That's why we strive to make the repair process as easy and hassle-free as possible for our clients. When you choose us for garage door repair Austin, you can expect:
Fast and efficient service
Experienced and knowledgeable technicians
Affordable pricing
High-quality materials and workmanship
Excellent customer service
Check our 5 Star Ratings: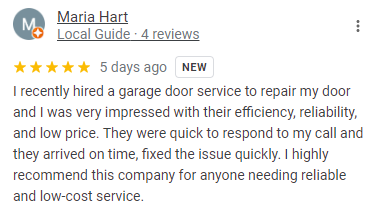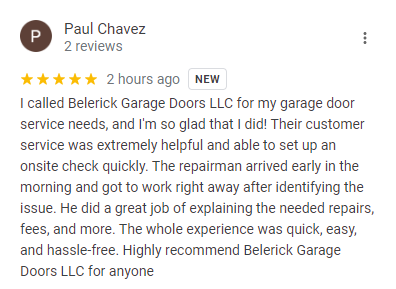 Top Sights in Austin, TX
Austin, TX is a diverse place that offers a beautiful mix of stunning natural attractions, historic places, and an urban landscape's familiar hustle and bustle. Check out places like:
Austin, TX Government Offices Include:
The region encounters both hot and cold weather patterns that can have an impact on your garage doors. To guarantee the safety and security of your home, it's essential to have a dependable garage door maintenance team that can provide service whenever needed. Having a reliable residential garage door service is precious during unforeseen situations.
Our services for garage door repair Austin, TX, cater to the city and neighboring regions of Austin, TX, and Travis County, TX. We can help you with routine and urgent garage door repairs.
In conclusion, replacing garage door brackets is a crucial part of maintaining the safety and functionality of your garage door. If you're experiencing any issues with your garage door brackets, it's vital to have them replaced as soon as possible. Don't let a broken garage door bracket ruin your day. Contact Belerick Garage Doors LLC today for fast and reliable garage door repair in Austin. We're here to help you get your garage door back up and running in no time!