Are you thinking of replacing your old garage door? If so, you're not alone. According to a survey, 71% of homeowners use their garage door as the main entrance to their homes. This means that your garage door is an essential part of your home's security and an important aspect of your home's overall appearance. If you're in the Austin, TX area and searching for garage door repair Austin, you'll find that Belerick Garage Doors LLC is a reliable service provider for garage door installation and repair.
In this blog post, we'll discuss the benefits of having a new garage door installed, the cost of installation, and how Belerick Garage Doors LLC can help. We'll also highlight the top sights around Austin, TX, to make the most of your visit.
Benefits of Installing a New Garage Door
Improved Home Security
Your garage door is one of the main entrances to your home, and a faulty or old door can compromise the security of your home. A new garage door installation has modern security features such as rolling codes, remote controls, and sensors that ensure your garage door is secure.
Enhanced Curb Appeal
A garage door is essential to your home's exterior, and an old or outdated door can detract from your home's overall aesthetic appeal. Installing a new garage door is an affordable way to enhance your home's curb appeal, increase your home's value, and create a positive first impression.
Increased Energy Efficiency
A new garage door can improve your home's energy efficiency by providing better insulation. The better insulation keeps the garage space warmer in the winter and cooler in the summer, reducing energy bills and keeping your home comfortable all year round.
Reduced Maintenance Costs
Old garage doors often require frequent maintenance, which can be expensive. Installing a new garage door eliminates constant repairs and maintenance, saving you time and money.
Garage Door Installation Cost
The cost of a garage door installation depends on several factors, such as the door type, the door size, and the installation company. Generally, a standard single garage door ranges from $500 to $1,500, while a double garage door can cost between $800 and $2,500.
On the other hand, custom garage doors can cost between $2,000 and $10,000, depending on the materials used, the design, and the installation complexity.
Garage Door Installation Process
Once you've chosen the right garage door for your home, it's time to install it. While some attempt to install their garage doors, hiring a professional is always best. A professional garage door installer will have the tools and expertise to install your garage door correctly and safely.
Here's what you can expect during the garage door installation process:
Preparation: If necessary, the installer will remove your old garage door and prepare the opening for the new door.
Installation: The installer will assemble and install the new garage door, including the springs, tracks, and hardware.
Testing: The installer will test the garage door to ensure it operates smoothly and safely.
Cleanup: The installer will remove all debris and clean and tidy your garage.
If you're in the Austin, TX area and searching for garage door repair Austin, Belerick Garage Doors LLC offers competitive pricing for garage door installation and repair services. With years of experience, they provide quality and reliable services, making them a top choice in Austin, TX.
As a locally owned and operated company, Belerick Garage Doors LLC understands the unique needs of Austin homeowners. We offer various garage door styles and materials to fit any home's aesthetic, including classic carriage house designs and modern, sleek options. Plus, our expert technicians are trained to handle any garage door repair Austin homeowners may need.
But before you start your garage door installation project, take some time to explore the top sights in Austin, TX. This vibrant city has something for everyone, from natural wonders to iconic landmarks.
One must-see destination in Austin is Lady Bird Lake, a beautiful reservoir in the city's heart. Take a stroll or bike ride along the scenic trail that winds around the lake, or rent a kayak or paddleboard to get up close and personal with the water. Lady Bird Lake is a great way to escape the hustle and bustle of the city and enjoy some peaceful nature.
Another iconic spot in Austin is the Texas State Capitol. This stunning building is the enormous state capital in the US and features beautiful architecture and artwork. Take a guided tour to learn about the history of Texas and see the legislative process in action.
For music lovers, no trip to Austin is complete without a visit to the legendary music scene on Sixth Street. This vibrant area is packed with bars and clubs featuring live music every night of the week. From country to rock to jazz, there's something for every taste in music.
Now, back to your garage door installation project. At Belerick Garage Doors LLC, we pride ourselves on providing top-notch service to our customers. Our technicians are fully licensed and insured, and we offer a satisfaction guarantee on all our work.
When you choose Belerick Garage Doors LLC for your garage door installation, you can expect a hassle-free experience from start to finish. Our team will work with you to choose the perfect garage door for your home and budget, and we'll handle all the installation process details. We'll even haul away your old garage door and ensure that everything is cleaned up before we leave.
In addition to garage door installation, we offer various repair services for Austin homeowners. Whether your garage door is making strange noises or won't open, our expert technicians can diagnose the problem and provide a solution. We pride ourselves on providing fast, reliable service to our customers, so you can return to your regular routine as quickly as possible.
So why choose Belerick Garage Doors LLC for your garage door needs? Here are just a few reasons:
Locally owned and operated
Wide range of garage door styles and materials
Expert technicians trained in garage door repair Austin
Satisfaction guarantee on all work
Fast, reliable service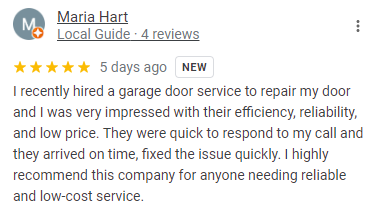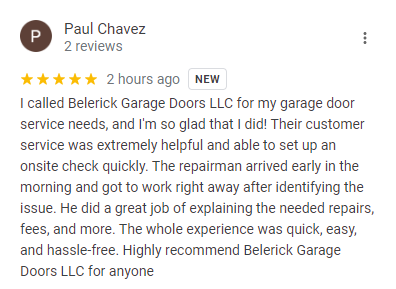 Don't settle for a worn-out, outdated garage door that detracts from your home's beauty and security. Upgrade to a new, high-quality garage door from Belerick Garage Doors LLC and enjoy peace of mind and improved curb appeal. Contact us today to schedule your garage door installation or repair appointment.